Psandstormm FW- 2009 Buckskin 31/32 Arabian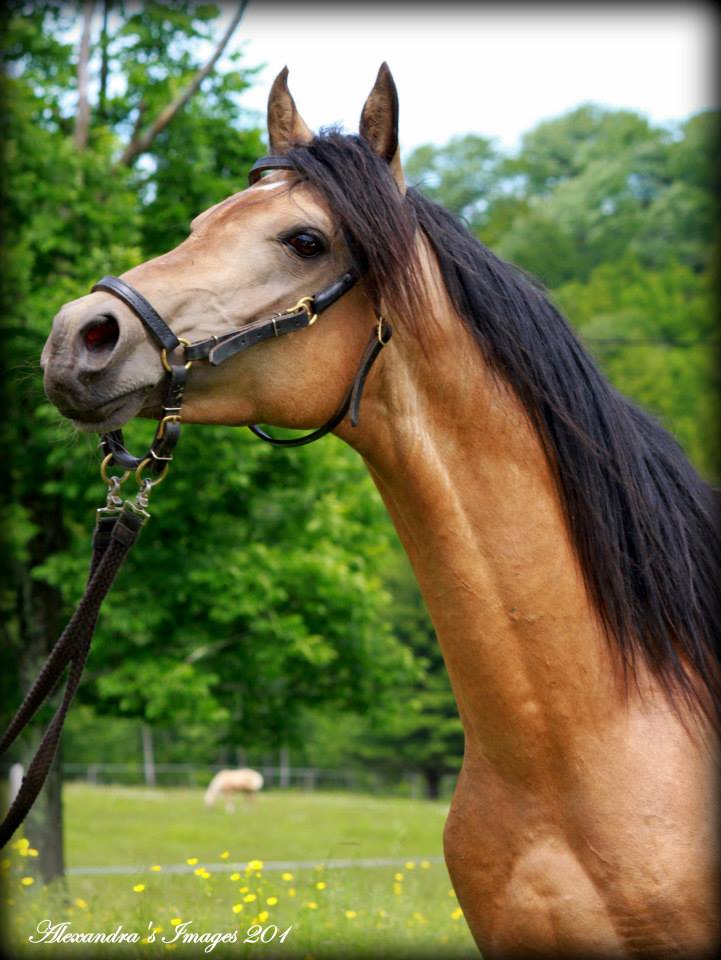 (Elaan-TOF Khedance by Khemosabi), shown here as a five year old.
REFERENCE SIRE ONLY. Psandstormm (or Bucky as he is known around the farm) has returned home and will be standing at stud starting in 2014 to select mares. He has grown into the stallion we had hoped he would become. Good breeding shines through and when it has a pretty colored wrapper even better! Bucky is 31/32 Arabian by blood and it shows! Bucky's sire is our very own Elaan whom we lost to a tragic accident and his dam is a direct daughter of Khemosabi whose dam is in turn out of a MS Santana daughter. Add in some hearty Crabbet blood, 3 x to Fadjur and you have genetic gold. There are several dilute partbred Arabian stallions standing at stud but few have the authentic Arabian "look" that this gorgeous guy does. He is the result of two decades of careful breeding and we are very excited about what he will bring to the next generation of Foxwillow Palomino and Buckskin high percentage Arabians.
Click on his photo to go to his page for more info and photos. Check out his reduced stud fee for 2014, limited time offer.
LJ Owyhee Moonstone- **REFERENCE SIRE ONLY** No longer at stud. 2005 Cremello Partbred Arabian and Quarab Stallion . 100% Buckskin & Palomino Foals! Sweepstakes Nominated Sire. Click photo to go to his page.
buckysadphoto.jpg
Click on the following link to go to his Facebook Photo Album,