2005 Fillies
Nemesis VHF
Photo taken at 4 months of age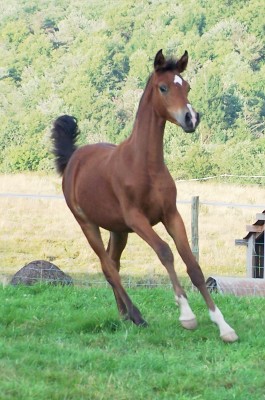 Click photo to visit her page
Born April 14, 2005 (Saba Mashaali-IWT Ladyhawke) Probably one of the most beautiful fillies we have ever bred, tall, exotic, lots of substance and oh boy can she trot! She always has her tail over her back as she moves, life is a true joy for this little girl. She is no longer for sale as we are retaining her for our breeding program.
Phantasia VHF
Photo taken at 5 mos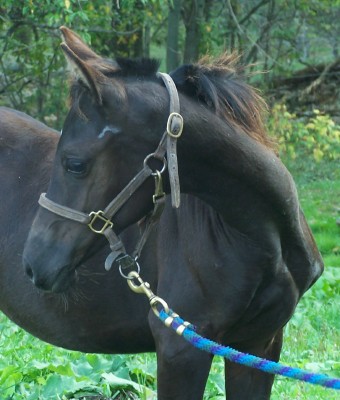 Born April 5, 2005. (ASA Ebony Pharoah-Miss Mendeza)- purebred black filly with three low white feet and a star, we're very pleased with this gorgeous girl. She is a wonderful cross of Egyptian and Polish bloodlines including Saud el Ameer, Opus One, Aladdinn, Comet, Faserr, Farag Allah and more. Keep checking back for updated pictures as she grows. SOLD to Ron and Mary Brazie
Johara VHF
Born March 18, 2005 (ASA Ebony Pharoah-Polasingul) purebred black/black bay going grey filly with an interesting blaze (no idea where that is coming from), she is tall with a beautiful dished head, big eyes, a long neck and tons of prescence! We call her "the Princess" because she always seems to be surveying her "kingdom" and loves to strut around. She is very sweet and kind but seems to know she's special. Wonderful cross of pure Polish on a predominatley Egyptian bred stallion (Babson/Davenport), her pedigree includes Saud el Ameer, Synbad, Faserr, Gallup, Gdansk, Elimar and more. SOLD to Sarah Theroux
Escapade VHF
Photo at 6 mos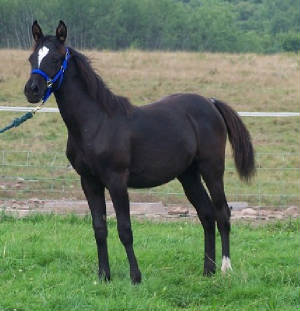 Born February 28, 2005 (ASA Ebony Pharoah-Nesma el Bahr) our first foal of the season, gorgeous black filly with a large elongated star, snip and three white socks, lots of substance, definitley her father's daughter! Her dam is one of only two purebred daughters of Sophiras Amir our foundation stallion. This cute little girl is a rich blend of Polish and Egyptian lines with a touch of Crabbet, including Almawardy, Fadjur (2 X), Touch of Magic, Port Bask, and Abu Farwa. Sold to Jennifer Peotter.