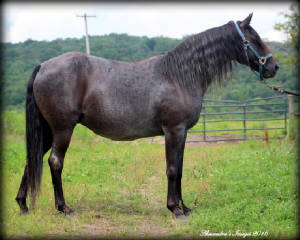 Diamond Fox's Deja Blue-

Gorgeous Blue Roan mare with a wonderfully smooth foxtrot, lovely head with a large eye and TONS of wavy long hair! She is an affectionate, laid back mare that just takes everything in stride. Around the barn she is known as the "Angelina Jolie of horses". She is bred to our homozygous Black/White Foxtrotter stallion Mr. Renegade's Go Boy for a guaranteed Tobiano April 2017 foal! Considering her gorgeous 2014 filly we can't wait to see this baby! Click here for pedigree

http://www.allbreedpedigree.com/diamond+foxs+deja+blue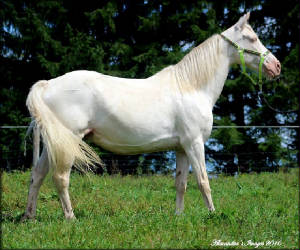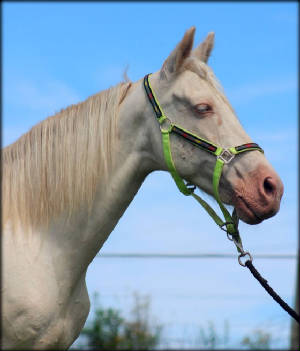 Mane Gait's Dreaming Dixie- Lovely cremello Dreamspinner daughter, Dixie herself is a joy to ride and she has thrown several nicely gaited foals that are a joy to their owners. Dixie, as we call her, is an absolute love and enjoys sharing coffee, toast, apples and even mints with her human buddies. She is well mannered and tries very hard to please whatever is asked of her. She enjoys cuddling and always nickers when she sees you coming. She is bred to our homozygous Black/White Tobiano stallion Mr. Renegade's Go Boy for a smoky black/white 2017 foal- will be for sale at weaning.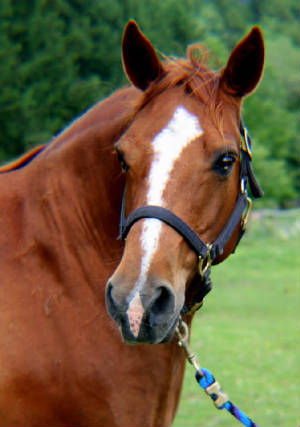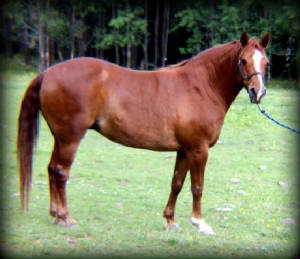 Angel's Dixie Belle- 1995 daughter of Danney Joe's Golden Shadow and out of a Mack K's Yankee/ Missouri Rambler E bred mare. Belle is V-127 and double registered with the Foxtrotter Foundation Heritage Association. Due to contracting EPM as a youngster she has only been a broodmare...but a good one! We have two of her offspring here...her stunning daughter below and a young gelding sired by Baron's Trail Bay- another foundation bred Foxtrotter. This colt is now in training and just super gaited! Looking forward to some more awesome foals out of this ol' gem. Bred to Renegade for August 2017.
Click here for Belle's Pedigree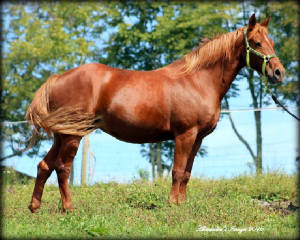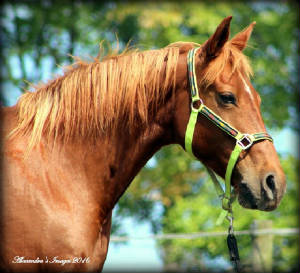 Last Touch of Gold- Sired by Rex's Golden Touch and out of a Missouri Traveler daughter. This stout mare stands at 15 hh and has a wonderful foxtrot. At one time she was owned by Brenda Imus who thought the world of this mare. She has the pedigree, conformation and gait that we are looking for in our broodmares. We are really looking forward to what this lovely mare will produce for us. She is currently in foal to Mr. Renegade's Go Boy for June 2017.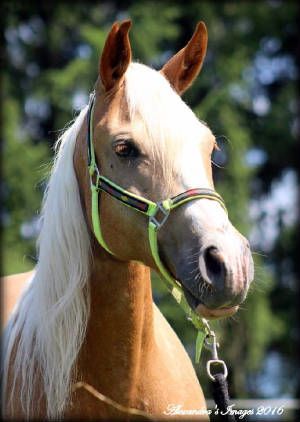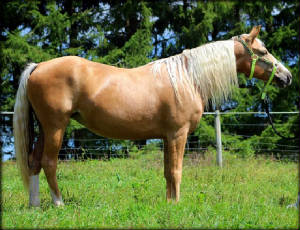 GG Sister Goldenhair- Sired by a Missouri Traveler son (Traveler's Nod A Lot), this mare became part of our herd purely by coincidence. She came here to be bred and I fell head over heels in love with her. She is the perfect size at 15 hh and is one of the smoothest horses I have ever had the joy to sit on. She is both my personal riding horse and a treasured edition to our small herd. She is currently in foal to Mr. Renegade's Go Boy for July 2017.